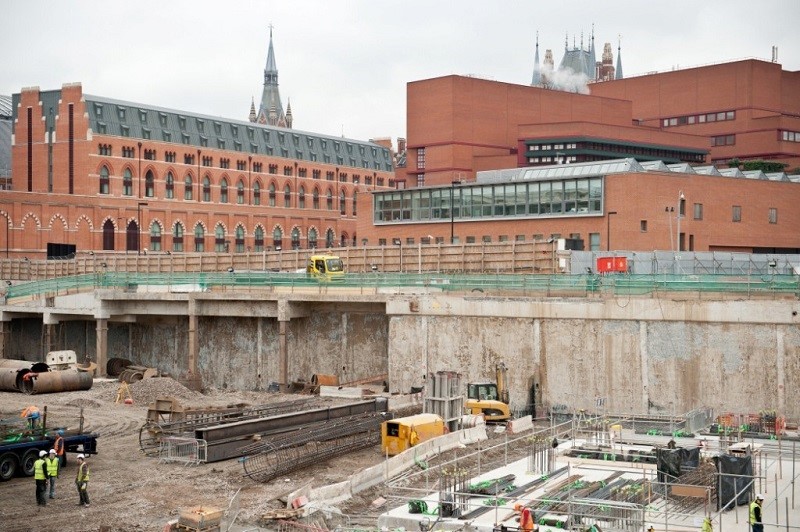 Budget
This project was completed in 2018.
Supporting better air quality planning
The Somers Town Neighbourhood Forum (STNF), a group working to positively influence the development of their neighbourhood at a time of dramatic change, identified that a number of construction projects in the neighbourhood affecting air quality. This project built on a 2017 Environmental Justice Inquiry undertaken in collaboration between the STNF, Voluntary Action Camden (VAC), the Environmental Law Foundation and UCL.
The STNF wanted to investigate the impact on air quality caused during and following projects such as the redevelopment of St Pancras and Euston Stations, the British Library expansion, and construction of the Crick Institute and the High Speed 2 (HS2) and Crossrail 2, with an interest in finding solutions to improve air quality.
The STNF identified potential funding for interventions through the Community Infrastructure Levy (a planning charge paid by developers to local authorities) and worked with the EngEx at UCL to engage community residents in the design and decision making for recommendations to reduce harmful impacts.  
Using UCL's knowledge exchange and innovation funding the project ran a full co-design process, comprising three community-based workshops. 
The first, in December 2017, focused on encouraging STNF members to debate different issues and interventions around air quality. STNF Chair Slaney Devlin gave an overview about air quality in the area, including the main sources of pollution and how the group could include air quality in their plan. Participants then split into working groups to debate three issues in detail: Traffic; Trees and Greening; and Urban Form and Street Canyons.
The key concerns were to reduce health risks, particularly to vulnerable groups; ensure current regulations are enforced; and leverage participation from organisations in the Knowledge Quarter to improve air quality monitoring and provide accurate baselining.
The groups also came up with specific ideas for action and intervention. These covered small, immediate actions such as asking drivers to turn off their idling engines, or identifying spaces in estates which could undergo greening; and more radical or long term ideas, such as designing a new form of small electric vehicle to 'hop' passengers between stations.
The second workshop reviewed current evidence available on the ideas and suggestions made in the first. This generated a ranked list of actions:
Evaluation of the current monitoring of air quality in Somers Town and future needs compared to best practice.
Review of the air quality forecasts in the EIAs for recent developments, compared to current air quality. 
Linking with the UCL-ELF Environmental Justice Inquiry findings on cumulative impacts of development on air quality and health.
Working with Knowledge Quarter stakeholders and others to reduce congestion from last-mile delivery traffic.
Citizen science 'window wipe' testing to identify pollutants.
Improving data about current street trees and identifying optimal locations for tree planting.
Air quality expert and UCL Senior Research Associate Dr Claire Holman was commissioned to write a technical report addressing the first 2 points. Her review identified discrepancies in recent air quality assessments and identified areas for better or prolonged monitoring. This led to tangible recommendations for the planning document and some ideas for spending CIL money. The third workshop was held in November 2018 to discuss the findings of the technical review and the recommendations for the Neighbourhood Plan.
Outcomes
Twenty six members of the STNF turned up to thoroughly debate the report and the recommendations. The STNF developed a Neighbourhood Plan.
Discussions took place with Knowledge Quarter stakeholders and UCL academics on best practice for last-mile delivery on opportunities for other participatory projects on health and local pollution in Somers Town.
Budget
This project was completed in 2018.