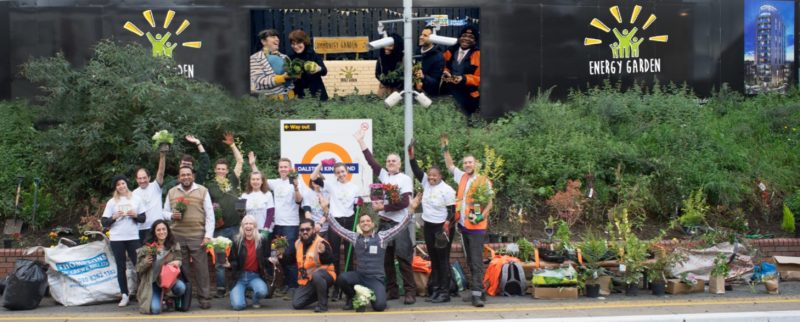 Timescale
The first energy garden project was established in 2012, and the energy garden was not officially launched until 2015. The project was completed in 2017.
Scale
London Overground Rail Network
Energy Garden was a partnership project delivered by Repowering London, Groundwork London and Transport for London, and was funded by the players of People's Postcode Lottery through The Dream Fund.
Energy Garden is the world's first citywide combined community energy and gardening project. By engaging with local communities, landowners and businesses, the project created a network of interconnected, community Energy Gardens at multiple rail stations across London's Overground line.
Each Energy Garden is unique to its community allowing the creation of gardening spaces and other greening measures, such as hanging baskets and vertical gardens, powered by solar water pumps, solar lighting and interactive solar community notice boards. Solar arrays were also installed on rooftops and brownfield sites and income generated by these will provide a revenue stream to support the ongoing maintenance of the gardens.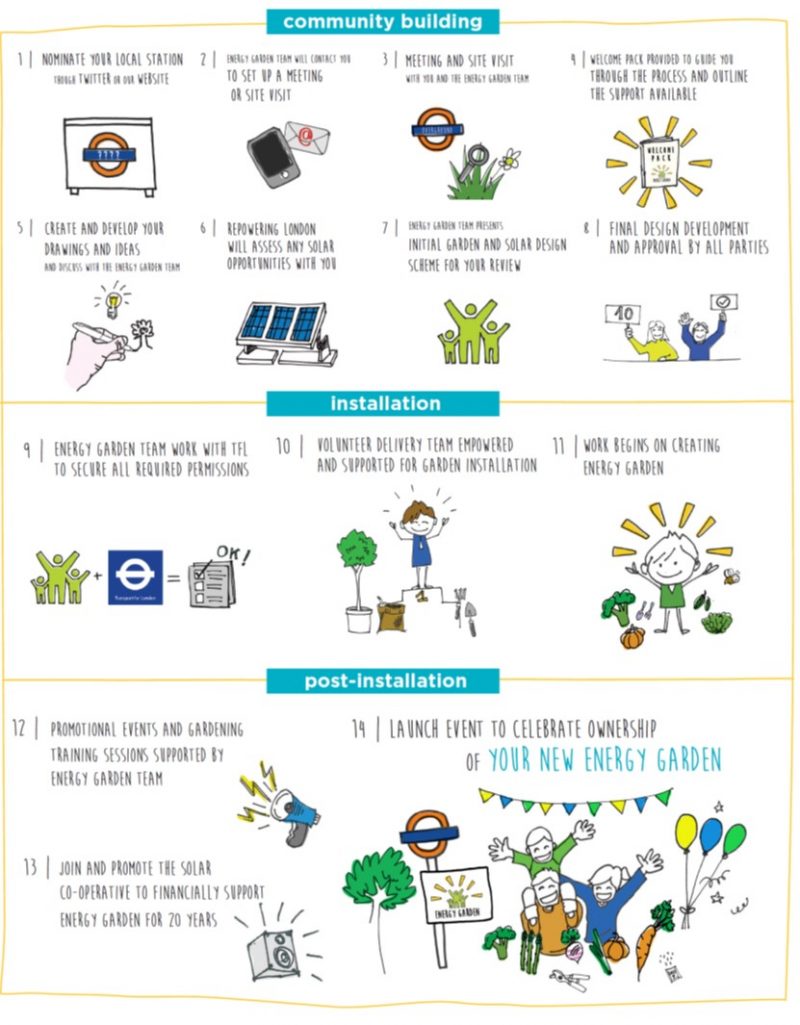 The project engaged local stakeholders such as local community members, commuters and station staff from the outset. Local communities were asked to nominate their station for inclusion by email or Twitter, with the aim of 50 Energy Garden projects in total.
Site surveys were then conducted at potential sites with all stakeholders, to gather background information of the site including existing planting beds and green space, ideas for the garden, potential issues, and level of interest from different stakeholders. To formalise the start of each Energy Garden, partners signed a Community Partnership Agreement and shared a Principles and Values statement.  
Additional support materials such as the Energy Garden Welcome Pack and posters about the project were displayed at stations.
This was followed by a co-design workshop to which members of the local community were invited to participate. The workshops took place on station platforms and generated ideas and sketches for possible garden designs, building on maps of the existing station layouts.
Landscape designers worked up formal designs to present to the community, which were shared at a second co-design workshop. This provided the opportunity for feedback and additional inclusions or changes before the designs were presented to senior staff at Energy Garden to finalise the decision using fixed criteria such as sustainability, availability of tools and resources to implement and maintain the garden, size, and visual and sensory appeal. Finally, plans were sent to TFL as station owners, for approval.
At the same time, solar powering was explored, initiated at the site survey. A solar model was developed using site information, interaction with the design and input from the station manager. As well as TFL, sign off and approval was also required from the relevant local council. 
Gardens were installed by the teams of station volunteers, supported by the Energy Garden staff team, and supplemented with sub-contractors, if required, for more technical aspects. Dates were selected around volunteer team availability. Volunteers were fully supported and briefed on roles and responsibilities. Examples of the installation activities included ground preparation, bed laying, fence building, seed sowing and planting.
To celebrate the achievements, opening events were held to introduce the Energy Gardens to the local community and other interested stakeholders. There were some network wide activities as well, including a train tour of station gardens.
As sustainability was a key priority of the Energy Garden project, each Garden was supported with a handover and continuation plan. The plans had three aspects to them:
Practicalities of continuation: staffing and resource to support the local champions with training, support, gaining access to spaces, problem solving and liaising with relevant partners. Although the community is directly in control of what gets planted and how to develop the space to flourish
Financial: providing a stipend to all energy gardens for buying new plants and development of the garden
Education: open courses, school education programme and youth training programme.
Timescale
The first energy garden project was established in 2012, and the energy garden was not officially launched until 2015. The project was completed in 2017.
Scale
London Overground Rail Network