Leather Market Kipling Garden Design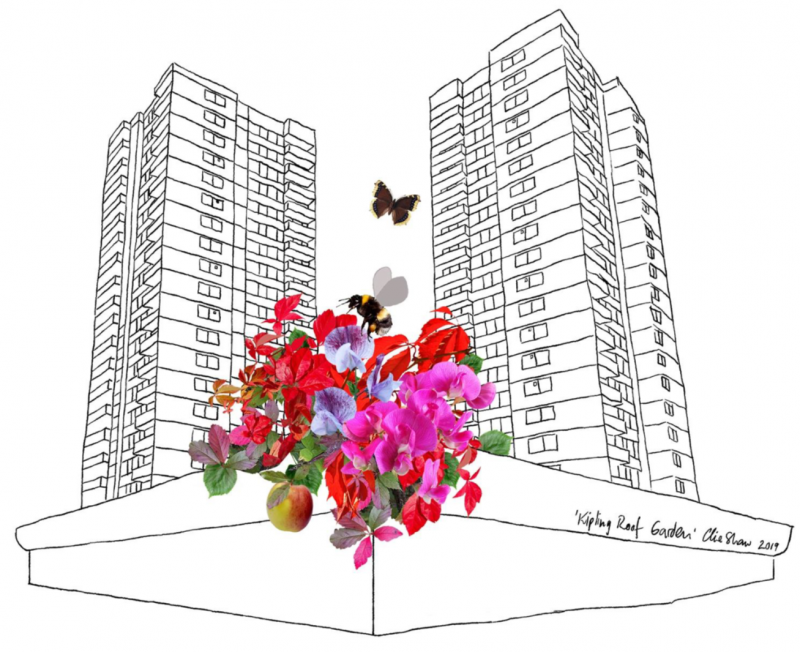 Timescale
The design and first phase of this project were completed in 2020.
Budget
£48,000 (design and phase 1); £125,000 (full implementation)
Funded by NERC and the Mayor of London
Built in 1965, the Kipling Estate has a large concrete playground sited on top of the estate's garages. The area has been out of use since the 1980s, made inaccessible due to concerns over safety and management. For the last 10 years some residents have wanted to turn it into a green space.
Designing a garden that can meet residents' aspirations, deliver on sustainability targets and be easy to develop and manage is complex.
Leathermarket JMB, the management body for Kipling Estate put residents in touch with researchers from Imperial College and UCL working on local water management as part of the CAMELLIA programme.
The roof space is 1600m2. The Kipling Gardeners aim to create:
A wildflower meadow
Green walls along the perimeter
A small orchard using fruit trees in planters
Allotments for residents to use
Planted beds
A pergola with seating space
Residents used the Kipling Calculator to produce an outline design. This bespoke tool from the British Geological Survey calculates the water impacts of their design.
The calculator divides the rooftop into 49 square units measuring 32.65m2 each. It has four surface types:
1. Extensive green roof (attenuates run off)
2. Growing space with raised beds (attenuates, but also generates demand for water)
3. Water storage with solar PV array, pump and drip irrigation system (meets demand and attenuates run)
4. Amenity space for seating, pergolas, storage areas (no water impacts).
The calculator gauges the water impacts of the design, and prompts users to add enough water storage to meet any demand.
Further information is available on the CAMELLIA project page.
Timescale
The design and first phase of this project were completed in 2020.
Budget
£48,000 (design and phase 1); £125,000 (full implementation)