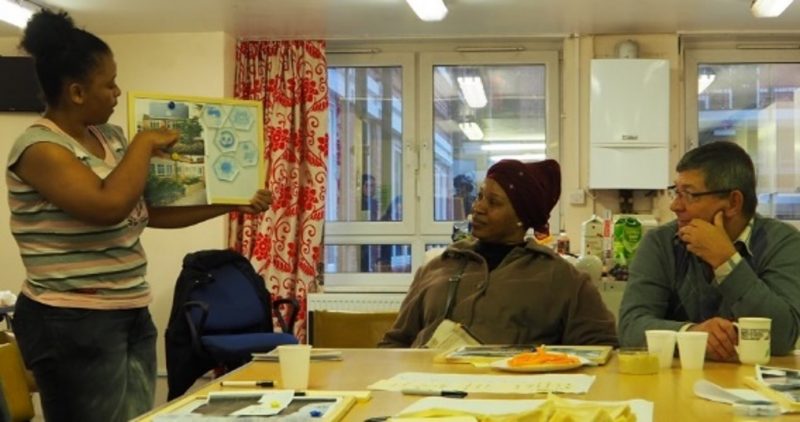 Timescale
This project was completed in 2017.
Project objectives
The objectives of the project were to:
Demonstrate a new paradigm for engineering design starting from the viewpoint of the home, looking out towards systems of provision to meet household demands
Integrate thinking about water, energy, food, (WEF) waste and data at the domestic scale to support user-led innovation and co-design of technologies and infrastructure
Test new design methods that connect homes to communities, technologies and infrastructure, enhancing positive interactions between data, water, energy, food and waste systems
Develop a robust Lifecycle Assessment (LCA) Calculator tool to support environmental decision-making in co-design.
Co-design with the local community
The project drew on two strands of design thinking to inform the co-design methodology.

The first looked to the participatory design tradition developed within the field of information technologies to find ways to engage residents in the design process.

The second looked to the tradition of product design within the sustainability design field, in order to look at how interventions can disrupt the status quo of WEF resource use in the home.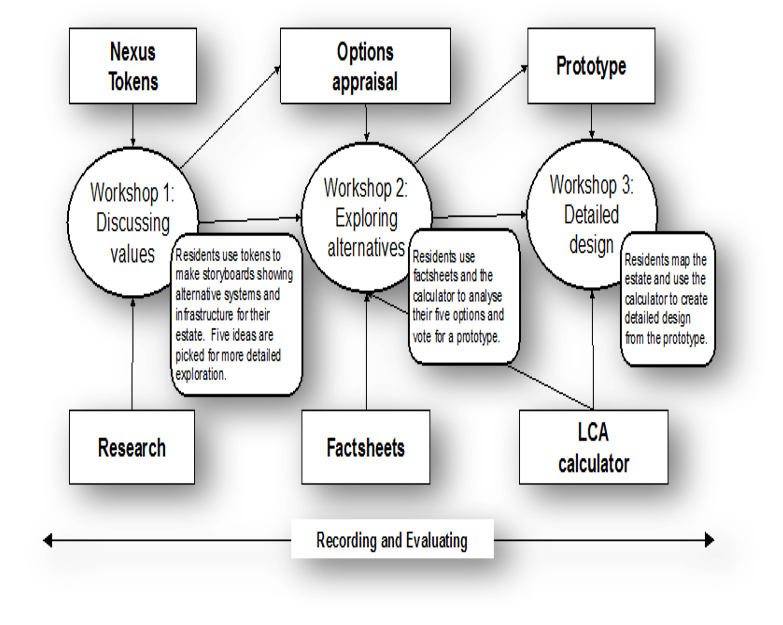 Key achievements
Working with residents of the Meakin Estate in South London, the project followed a co-design method to identify requirements, analyse options and develop and test a detailed design for a preferred option. The outputs were:
An Ethnographic study of how residents use water, energy and food resources in their homes and key opportunities for engineering design to improve wellbeing and reduce resource consumption.
Co-design of decentralised infrastructural systems in three workshops in 2016-2017.
The first workshop identified key priorities for development from the community using the novel Nexy Token system design method, to enable participants to build up alternative designs for local provision of water, energy, food and waste services
The second workshop provided participants with factsheets and photographs of the candidate technologies, which were then analysed using the LCA Calculator tool
Rainwater harvesting was selected as the technology for further co-design in the third workshop, which focussed on scaling up a pilot installation
A pilot-scale smart rainwater system was installed in partnership with the Over The Air Analytics (OTA). OTA's system enables remote control of the rainwater storage tanks to optimise their performance as stormwater attenuation as well as non-potable water supply
A Lifecycle Assessment (LCA) Calculator used with community participants in workshops to enable quick estimation of the impacts of new systems and technology to deliver water, energy and food, and manage waste at the household and neighbourhood scale
Stakeholders, including utilities, design consultancies and community-based organisations, engaged in three workshops to inform the wider relevance and development of the co-design methods and tools
Toolbox and method statements to standardise and disseminate the methods used in the project for wider application and development.
A measure of success
The Engineering Comes Home project demonstrated that local communities are capable of engaging in discussion and design of technical systems to meet resource needs that are typically supplied by large, centralised systems.
Discussing options for alternative supply systems provided a unique context for engaging with the larger systems of provision and their environmental impacts. For instance, participants in the project increased their knowledge of urban drainage and combined sewer overflows through their interest in rainwater harvesting for water supply.

The pilot rainwater harvesting also provided a demonstration of the capability of 'Internet of Things' technologies to improve management of smaller-scale technologies, linking data infrastructure to everyday experience of rainwater, car washing and gardening.
Through participating in a design process that attended to the specific needs and values of the community, residents not only developed ideas for improving their neighbourhood but they also increased their infrastructural literacy, improving understanding of how centralised systems of provision operate.
Timescale
This project was completed in 2017.